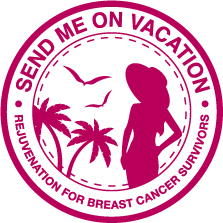 Orlando, Florida, 22 September – (INTUITION) – Send Me On Vacation (SMOV), a charity providing vacations for breast cancer survivors continues its long-standing affiliation with GNEX Conference as Gold Sponsor for its 8th annual event.
The Global Networking Experience, commonly known as GNEX Conference is synonymous with attracting senior-level executives to different stunning locations each year, creating unique business-making environments and delivering spectacular social events.
In 2018, the conference will be held on the world's first mega-yacht venue, the $40 million, 228ft SeaFair Grand Luxe that recently completed a further $10 million renovation to provide a truly unique event venue that boasts more than 22,000 square feet of meeting space.
As part of the Gold Level Sponsorship, SMOV will host a mid-afternoon cocktail hour on the sky deck of the SeaFair Grand Luxe, entitled "Cocktails & Dreams". In addition to pink cocktails and networking, there will also be a charity auction to raise funds that help pay for the expenses that accompany donated accommodations, enabling SMOV to send breast cancer survivors and their families on a much needed vacation.
Send Me On Vacation is a US-based non-profit 501(c)(3) organization that provides financially disadvantaged breast cancer survivors with the opportunity to initiate the process of emotional healing through a vacation experience. Send Me On Vacation empowers survivors to reconnect with themselves on a rejuvenating vacation, which has been proven to have a profound effect on survivors, helping them rebuild their lives after or during treatment, where possible. Send Me On Vacation trips are designed to strengthen the body, stimulate the mind and heal the spirit, creating a transformative journey into health and wellness.
SMOV was first introduced at GNEX 2012 in Cancun, Mexico, where many initial and now long-time supporters became engaged. The charity has been associated with the annual conference ever since and most recently at GNEX 2017 in San Francisco, the charity auction raised more than $20,000, plus accommodation donations and sponsorship support for SMOV's annual charity poker tournament.
"The power of the Vacation Ownership Industry is enormous in creating immediate change in the physical body, emotional mind and tender spirit of those who have been effected by breast cancer. Battling cancer can bring you down to your weakest moment in life and we as an industry have the power to rejuvenate, restore and revitalize the life of survivors by donating accommodations, airline tickets cruise cabins, park tickets and financial contributions. This type of resource giving can make a tremendous positive impact to the lives of underserved survivors and their families. Join SMOV's mission in making Survivors Vacations Dream Come True at GNEX in Miami, 2018.", Says Cathy Backus, Founder, Send Me On Vacation
The Global Networking Experience (GNEX), as it is aptly named, will provide unique networking sessions and further extended networking time in a luxurious environment, where vacation industry leaders and new entrants alike can meet and find new business opportunities that will help drive their businesses forwards in the coming year.
Guest Speakers, Interactive Sessions, and Workshops will also be available throughout the four decks of the luxurious mega-yacht, providing valuable educational content on pertinent topics, and delivering an exciting schedule for attendees to plan their meetings around.
For more information and to register for the event, visiting http://gnexconference.com/register
To request a sponsorship brochure, visit http://gnexconference.com/sponsorship
About Send Me On Vacation
Launched in 2010, Send Me On Vacation has as a mission to provide much-needed vacations for women with breast cancer who have undergone treatment and need a place to rejuvenate and heal their body, mind and spirit. The organization sets itself apart from similar charities by providing life-altering empowering experiences that come with well- deserved vacations.
For more information, visit http://sendmeonvacation.org
About GNEX Conference
With a new destination every year, a heavy focus on networking, high-quality events, and innovative format, GNEX Conferences attract senior-level executives from more than 130+ companies across the globe. The conference brings together a unique mix of attendees from traditionally separated segments of the hospitality industry, enabling you to network with companies that specialize in Hotels, Vacation Ownership, Resort Real Estate, Vacation Rentals, OTAs, Travel Agencies & Travel Clubs, plus all the vendors that supply them, including Resort Management, Sales & Marketing, Legal & Financial, Construction & Renovation, Technology, HR & Training and more… For more details on our next event onboard the world's first mega-yacht event venue in Miami, visit http://gnexconference.com