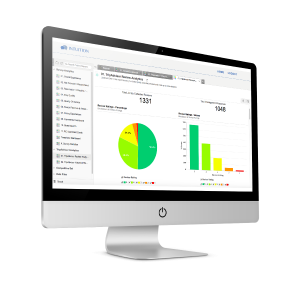 Orlando, Florida, March 26, 2017 (INTUITION) – The innovative Customer Engagement and Reputation Management service for hotels and resorts has announced the addition of Marketing Automation to its growing suite of services for release in Q2, 2017.
INTUITION, which provides solutions for clients on five continents in multiple languages, is a data analytics / business intelligence platform that is custom-built on a per client basis to deliver a visual aid to any data source. It provides actionable data that is relevant to each user within an organization, assisting managers and teams to make necessary business decisions in near real time.
Using the data analytics platform as the main hub, INTUITION also provides a suite of fully-managed services that include a variety of enterprise-level Customer Survey options, TripAdvisor Joint Review Collection, Review Monitoring, On-Site Live Feedback, Competitive Analysis and other Reputation Management tools.
Combined, these services clearly show hotels and resorts their areas of success and areas for improvement by tracking customer sentiment, satisfaction and behavior. It also generates significantly more online reviews and helps towards improving ratings and rankings, which in turn can generate more reservations and revenue.
Now INTUITION is adding a new major component that will focus on leveraging the data collected to further increase revenue.
"We are excited to launch our Marketing Automation service. INTUITION is always evolving and increasingly expanding – we have a number of new services being added this year that continue to add value to the core services, and we know this one will be very popular." Says Paul Mattimoe, President & CEO, INTUITION Brand Marketing.
The Marketing Automation service will offer a number of components, and again be fully customized to the requirements of each client, and fully managed by INTUITION, allowing the hotel or resort to concentrate on running their operations and taking care of their guests.
Included in the Marketing Automation service will be elements such as Pre-Arrival Emails, On-Site Communication, and Post Stay Marketing. Each will have calls to action that will help sell upgrades to rooms, activities and excursions, increase on-site spend or encourage repeat visits and referrals.
In addition, the interactions by guests with the various marketing automation elements will be tracked and added to the data analytics platform, providing further insights for the hotel or resort, and a more comprehensive customer profile, that will continue to fuel future marketing automation, delivering only relevant content to each individual guest based on their preferences, for a higher conversion rate.
For more information on INTUITION, visit http://intuitionbrandmarketing.com/tour
About INTUITION
Benefitting from more than 22 years of hotel and resort experience, INTUITION is an innovative Customer Engagement & Reputation Management service that collects and analyzes customer satisfaction, sentiment and intent. Custom-Built on a per client basis and fully managed by our expert team, our cloud-based system centralizes your key data and visualizes it in an easy to understand format. INTUITION also offers built-in services such as Customer Surveys, Review Monitoring, Brand Monitoring, Competitive Analysis and Marketing Automation. For more details visit http://intuitionbrandmarketing.com